Coldwaltham Parish is home to two churches.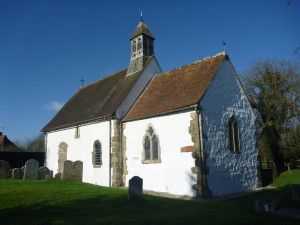 St Botolph's, Hardham, (pictured here) is the oldest, the available evidence indicating that it was built before the Norman Conquest, in the late Saxon period.  An ancient bricked-up door can be seen to the left of the picture, but the present entrance is on the far side of the building.  Inside, the walls are covered with a nearly complete set of medieval wall paintings, now more than 900 years old, on contemporary Christian themes.  They reflect both Norman and Saxon influences, with stylistic affinities to the famous Bayeux tapestries depicting the Norman invasion.  There is no fuller series of wall paintings of such antiquity anywhere else in the country, though paintings attributable to the same group of artists survive in a few other Sussex churches.  But the building remains a living church where services are held each Sunday morning, with a congregation that continues to care for this unique place of worship.
The present church of St Giles', Coldwaltham, goes back about 800 years, but was probably preceded by an Anglo-Saxon chapel on the same site.  Older still is the great yew tree in the churchyard.  While St Botolph's wall paintings show how little has been altered over the centuries, only the Early English tower of St Giles (featured above) remains much as it was.  It may even have been an addition to the original church building, as the oak of the bell frame was probably felled in 1260.  Much of the present church fabric, including the stained glass, dates from the nineteen century, and in particular from the incumbency of the Rev'd James Sandham, vicar for more than 50 years.  The original School House, to the north of the church, also dates from that period.  Some of the Victorian furnishings have been scaled back by restoration work in the last century, whose passing was however marked by the installation of the Millennium Lych Gate, enhancing the churchyard.  Regular services are held in the church from week to week.
Further information on our two churches is available at www.arunchurches.com .